Masks
Announcement – Delivery of Biologique Recherche products in Cyprus.
Dear Clients, we deliver all Biologique Recherche products in all cities in Cyprus via the Akis Express courier. #StaySafe. You may order your products by emailing us here, or calling us +357 96505393 (Christina – Viber, Whatsapp) or contacting us in our Facebook page.
MASKS
Biologique Recherche masks are full of highly concentrated active ingredients that help nourish, cleanse and balance the epidermis.
With Biologique Recherche care treatments, the effectiveness of which you can feel immediately after the procedure at our SPA Beauty Salon in Paphos, Cyprus, whereas per BR concept, the masks are applied in the middle of the treatment and therefore by absorbing the active ingredients involved at these stages, help to maintain the results achieved in the previous steps of facial skincare procedure.
MASQUE BIOSENSIBLE
It nourishes the skin with active ingredients, reduces redness, restores the hydrolipidic film, regulates the loss of water by the epidermis, and protects the skin from external influences.
MASQUE VISOLASTINE +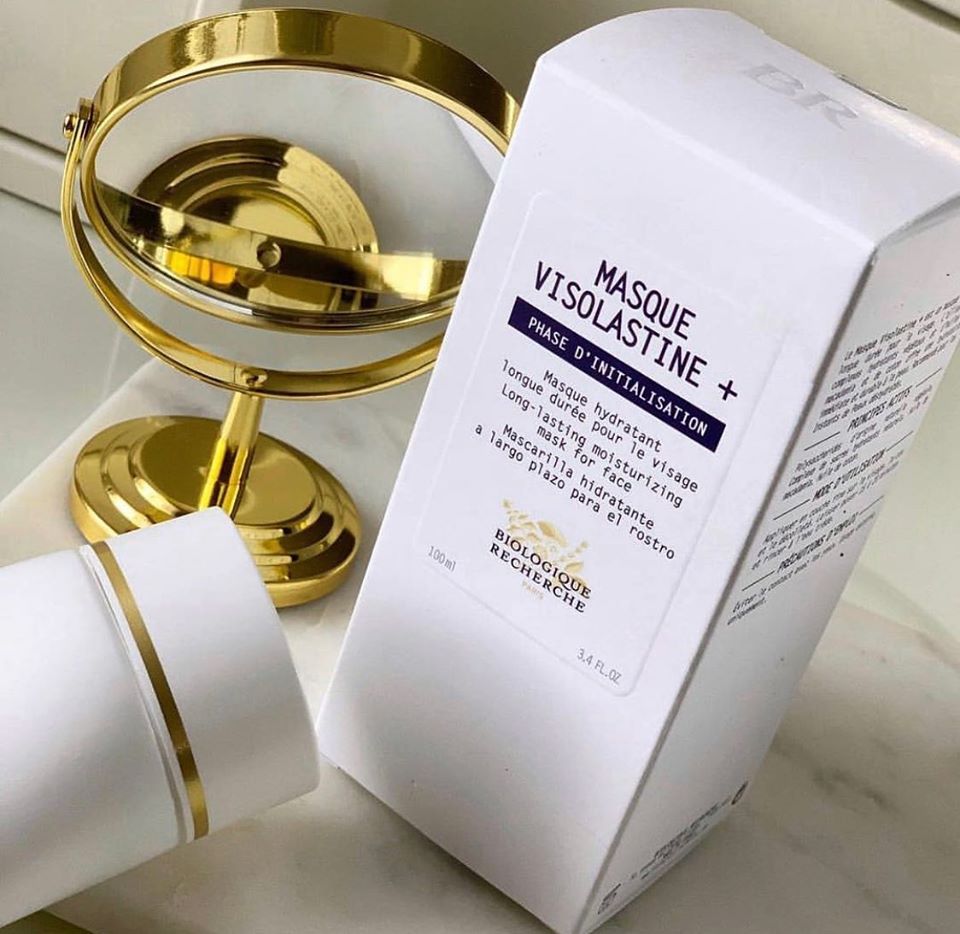 Effectively moisturizes the upper layers of the epidermis and restores the hydrolipidic film. It nourishes the skin with active ingredients for fixing and circulating water and prevents skin dehydration, and it has a long moisturizing effect.
MASQUE VIP O2
Saturates the skin with oxygen, eliminates pollution, gives the skin a light colour. Recommended for irritated, lifeless and dull skin conditions.
MASQUE PIGM 400
It makes the skin brighter and fights pigmentation. It has a concentrated formula whose active ingredients improve complexion and give the skin radiance. The very delicate texture of the mask is utterly absorbed and adapted to the contours of the face. Recommended for pigmented and dull skin conditions.
MASQUE VIVANT
Cleanses and soothes the skin, tightens pores, removes sebum and fights skin rashes. 
MASQUE BAIN DE PLANTES
Effectively regulates the level of sebum, and at the same time, does not irritate or dry the skin. A unique, universal product that is suitable for use on the face, body, chest, upper back and scalp. Recommended for seborrheic and hyperseborrhoeic skin conditions.
BIOMAGIC MASK
It gives an instant matting effect, tones cleanse and tighten the epidermis. Removes excess sebum and makes seborrheic skin and enlarged pore skin, clean and radiant.
MASQUE CRÈME BIOFIXINE
At the same time, the mask and the cream it relaxes and reduces wrinkles and prevents age-related ageing of the skin. It has multi-purpose, and it narrows and soothes the skin. Recommended for skin with signs of ageing.
COLD MASK
Effectively combats redness on the skin, soothes, refreshes and tones the skin.