BIOLOGIQUE RECHERCHE FACIAL SKIN CARE TREATMENTS at our Spa & Beauty Salon in Paphos, Cyprus
Biologique Recherche facial skincare treatments applied in our Beauty Salon & Spa in Paphos, Cyprus, combine a clinical approach to personalized cosmetic treatments. It implies a shared vision of the skin and body and provides facial, body, and hair care. Pure concentrated ingredients, complex formulas, and original carefully designed procedures – when combined, form the basis of the reputation of the effectiveness in the Biologique Recherche Methodology.
FACIAL TREATMENTS
PRODUCTS CATALOGUE
BIOLOGIQUE RECHERCHE BODY AND HAIR TREATMENTS at our Spa & Beauty Salon in Paphos, Cyprus
Methodology – Body
Body treatments provided at our Beauty Salon also consist of three stages, an assessment stage, an initial stage, and a healing stage. Their goal is to treat problems such as cellulite, lack of firmness, stretch marks, or the "effect of an orange peel." Biologique Recherche has developed unique skincare products to treat all these problems. These treatments have an instant effect, which you can be seen immediately after the treatment.
Methodology – Hair
Biologique Recherche has applied its 40 years of experience in treating skin problems to develop a unique product line for hair care. Like the face and body treatments, hair care treatments consist of three stages, an assessment stage, an initial stage, and a healing stage. They are used to treat scalp problems (dandruff, lifeless skin, split ends of hair, hair loss, and much more) and are suitable for all skin conditions, be it sensitive skin, dry skin, or oily.
BODY TREATMENTS
HAIR TREATMENTS
Announcement

– Delivery of Biologique Recherche products in Cyprus.
Dear Clients, we deliver all Biologique Recherche products in all cities in Cyprus via the ACS courier. You may order your products by emailing us here, or calling us +357 96505393 (Christina – Viber, Whatsapp) or contacting us in our Facebook page.
Address & Contacts of our Spa & Beauty Salon in Paphos
 

(+357) 96505393
Make an Appointment:

Biologique Recherche Beauty Salon & Spa  by Christina Korouchtsidi in Paphos, Cyprus.
Pefkiou Georgiadi 10, block 2, Beauty SPA, Paphos (Pafos), 8015 Cyprus
Working Hours: Daily 8:00 – 20:00, Sundays: We are closed.
This error message is only visible to WordPress admins
HTTP Error. Unable to connect to the Instagram API. Feed will not update.
BEAUTY & SPA SALON FOR SKINCARE IN PAPHOS – BIOLOGIQUE RECHERCHE CYPRUS
At our Beauty & Spa Salon in Paphos we follow the Biologique Recherche Skin Care Methodology.
Our skin reflects all internal and external factors, and it continually changes throughout the day and our lives. Since each person's skin is individual, and the skin condition varies during the day in different parts of the body in different ways, Biologique Recherche developed methodologies consisting of 3 stages that target the epidermis with an individual skin condition. These stages apply equally to all areas where we perform these procedures, be it face, body skincare, or hair skincare, the only thing that changes are the products used in each stage.
The first stage is the assessment stage, in which the beautician diagnoses the skin condition and selects the correct procedures and products based on the individual's client's skin condition.
Stages of Biologique Recherche Facial Skin Care Treatments
Then it's time for the initial stage, which is the most active part of the Biologique Recherche Methodology. It uses products containing a high concentration of plant, marine, and active biological ingredients that improve the quality of the skin and give it a radiant color.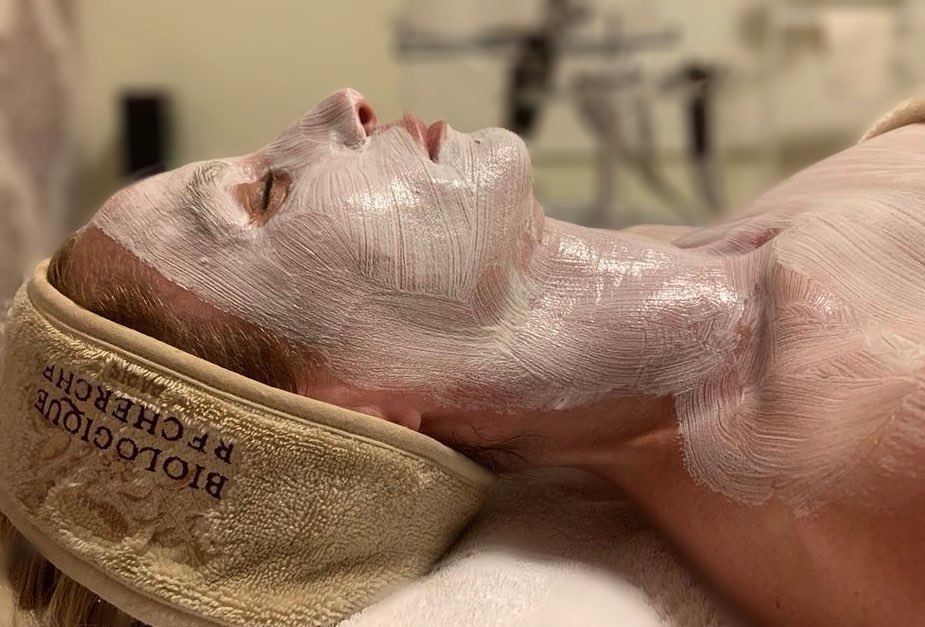 The initial stage consists of four stages. During the first stage, the skin is cleaned and moisturized with milk rich in active ingredients. This makes the facial treatment procedure productive from its very beginning and forms the basis of the effectiveness of the Biologique Recherche methodology.
In all subsequent stages, we use appropriate skincare products for each skin condition. Milk removes makeup and impurities that accumulate on the skin's surface, making it clean and gentle, and ready to be treated by a lotion. Lotions gently exfoliate the skin, balance excess sebum, moisturize and maintain the PH level of the epidermis. Biologique Recherche lotions are made for every skin condition and are applied depending on the instant skin type and facial routine.
During the treatment in our Spa Salon, the third stage will be applying a booster. This stage lasts 15-20 minutes, and we call these products boosters because they significantly enhance the treatment results. Boosters exfoliate restore the balance and condition of the epidermis by combining active ingredients and specialized manual techniques. A Biologique Recherche specialist uses all products in this stage in our beauty salon in Paphos, Cyprus, where we apply Biologique Recherche techniques. They are not available for the care of the skin at home.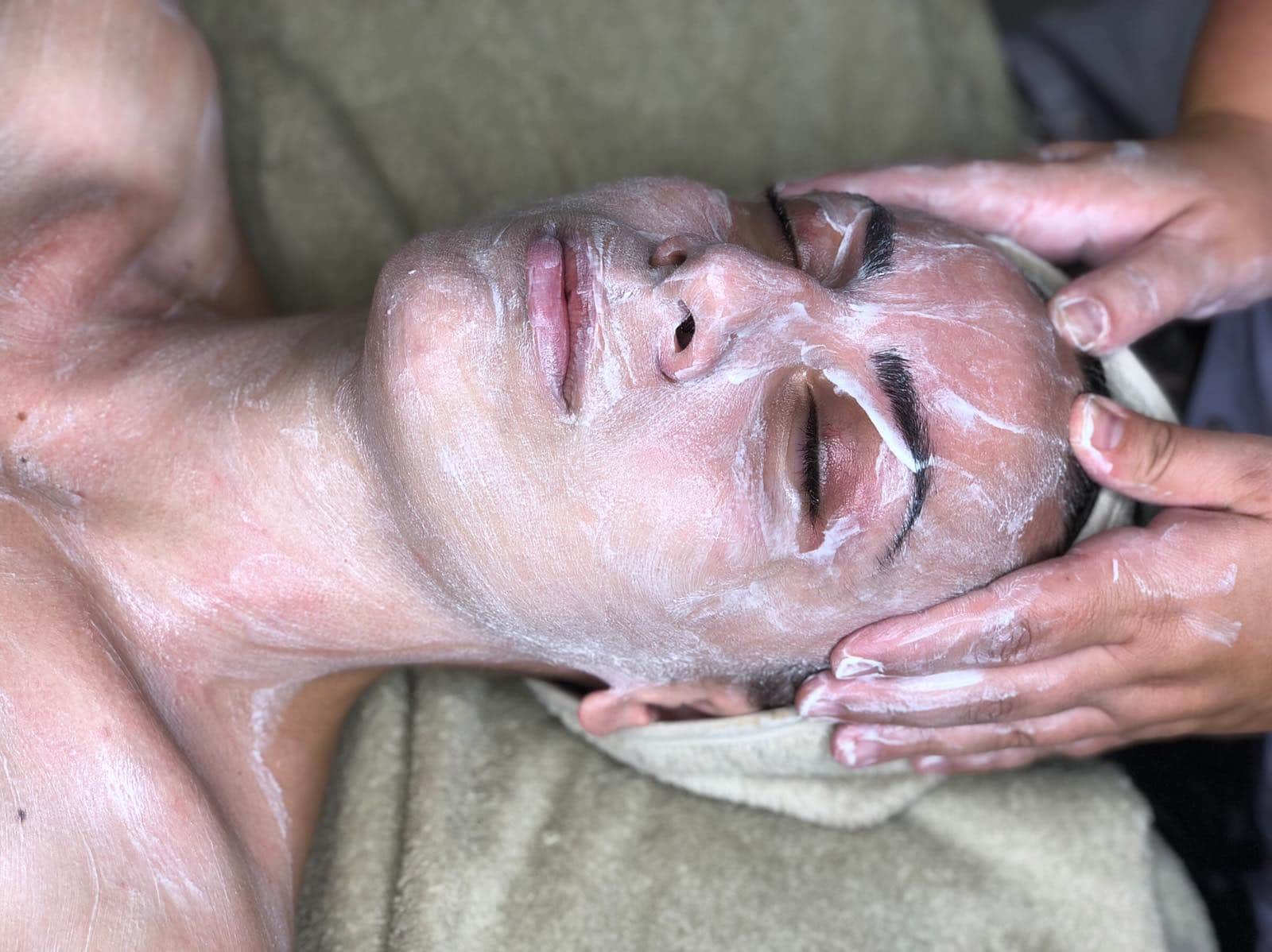 After that, we move on to applying the mask and, in some cases, to the Co-Factor. The masks are used in the initial stage because they are washed off and optimize the effects of the active ingredients applied at the treatment stage, some of which are activated using the Remodeling Face. 
Remodeling Face is an innovative device developed by Biologique Recherche used during skin care treatments. Its goal is to prepare the skin for more effective penetration and absorption of active ingredients. Facial Treatments with Remodeling Face ionizes the active ingredients in the applied products, opens the pores for the intake of active ingredients, helps to saturate the skin with oxygen, and improves skin's texture.
Co-Factors are new masks with moisturizing, tonic, and firming effects and are professional products used only in the beauty salon.
The treatment ends with the healing stage and skincare treatment for acne. It is the most active part of the methodology. The products used in this treatment contain the most highly concentrated plant, bio marine, and active biological ingredients with their maximum concentration and focus on treating specific skin problems.
The skincare healing stage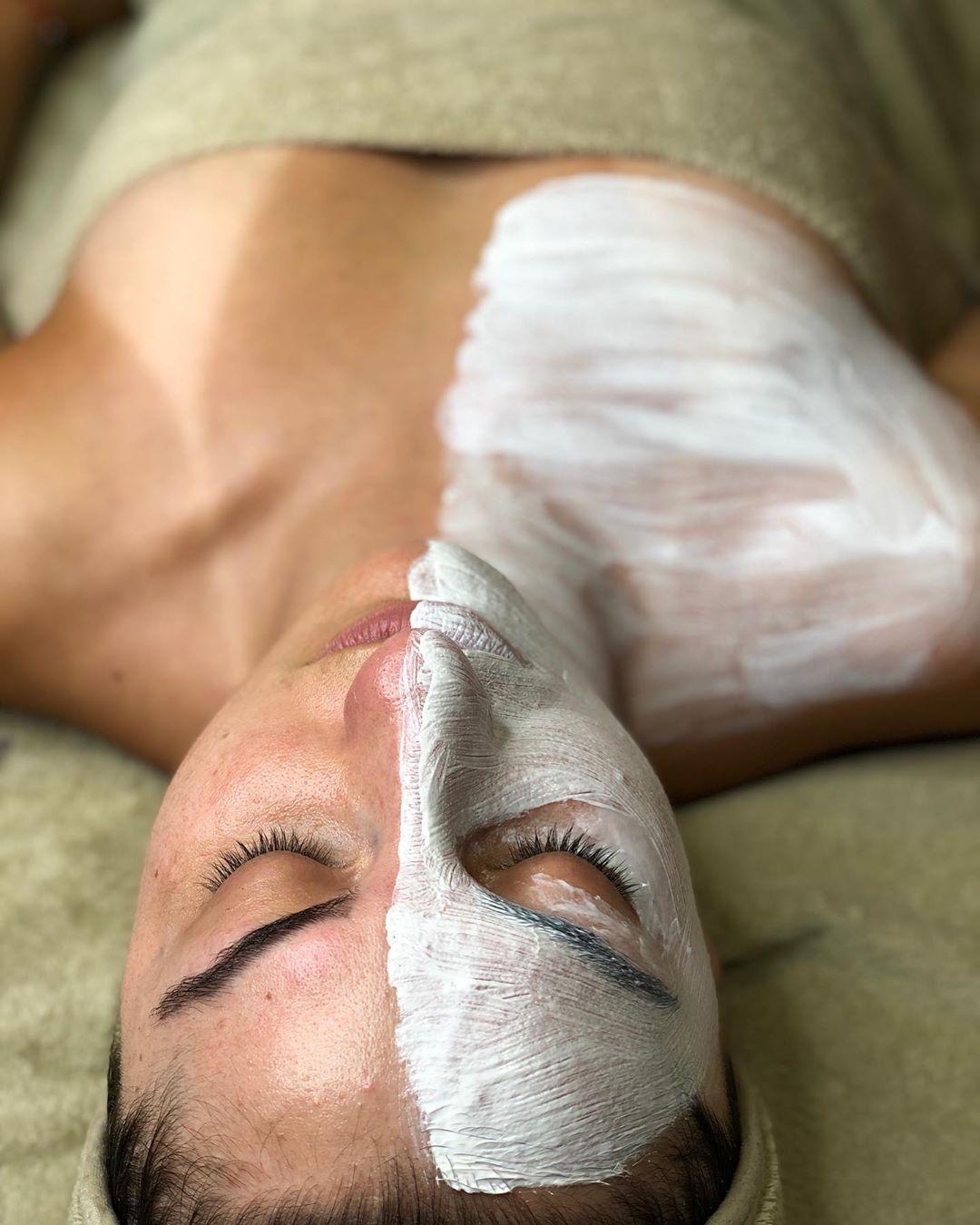 The healing stage also consists of four stages. The first stage is the application of specialized authentic serums. Authentic serums contain only pure, concentrated, active ingredients in the form of amino acids and short peptides with minimal preservatives. We use them alone or in combination, and their purpose is specific skin imbalances. We use specialized serums for skin that need special care. They provide instant and long-lasting results, filled with active ingredients obtained using phytobiology and biotechnology. They influence the causes and symptoms observed with skin disorders. To increase its effectiveness and activation of serums applied during the treatment, we use a Remodeling Face machine with four current types (galvanic, mid-frequency, high-frequency, and electroporation). 
At the next step, we'll apply the cream. Biologique Recherche developed several types of creams: intensive creams formulated for the skin which need special care. Basic creams for balancing skin and specific creams for particular face areas or an unbalanced skin condition. Finally, we apply the creams for the eye contour to take care of this sensitive face area.
The final stage of the treatments ends with applying the final serums. These Biologique Recherche serums are the most concentrated and complex ones. They complete the care and protect the skin from aggressive external effects. Some also add radiance and color to the skin creating an excellent foundation for makeup; they can be used daily and for a particular purpose.
For Biologique Recherche Products in Cyprus and Treatments in our Spa Beauty Salon in Paphos, Cyprus, contact us on +357) 96505393 (also you may contact us via Viber, Whatsapp, or Facetime).
Purchase cosmetics online through our E-Shop
Dive into the ocean of lavish beauty and skincare with BuyCosmetics.CY, the online cosmetic sanctuary that brings the finest products from around the globe to your doorstep. Stocking your vanity with the highest-grade cosmetics has never been this seamless and satisfying.
At BuyCosmetics.CY, you are invited to browse an extensive collection of the world's most prestigious brands. Some of these exclusive names include:
Biologique Recherche

, the darling of skincare devotees worldwide, known for its exceptional product range designed to rejuvenate and revitalize your skin.

Augustinus Bader

, the groundbreaking brand that marries cutting-edge cellular science with skincare, transforming the way you care for your complexion.

iS Clinical

, the embodiment of scientific innovation, crafting solutions that take skincare effectiveness to unprecedented levels.

Colorescience

, a unique brand that blends the worlds of beauty and skincare, resulting in products that not only beautify but also nourish your skin.
BuyCosmetics.CY isn't merely an e-commerce platform; it is a destination for beauty enthusiasts seeking the ultimate online shopping experience. With a user-friendly interface, secure payment options, and an intuitive product selection, the platform ensures a convenient and delightful shopping journey.
Moreover, the joy of purchasing from BuyCosmetics.CY is accentuated by its comprehensive payment options. Customers can choose between paying by card, which provides a safe and swift transaction process, or opting for cash on delivery, thus suiting a range of customer preferences and making the payment process a breeze.
What makes BuyCosmetics.CY truly stand out in the world of online cosmetic shopping is its commitment to stellar customer service. They understand that the excitement of buying a new beauty product is often dulled by long delivery waits and additional shipping charges. That's why they have revolutionized the process by offering free and speedy delivery across the length and breadth of Cyprus.
In the digital age where time is a luxury, BuyCosmetics.CY is the trusted ally of beauty enthusiasts who value quality and convenience. With a broad selection of the most sought-after brands, a smooth shopping experience, flexible payment options, and unrivaled delivery services, BuyCosmetics.CY emerges as the one-stop-shop for all your cosmetic desires, except those for foot care. Experience the best in beauty and service with BuyCosmetics.CY – where your beauty journey begins.