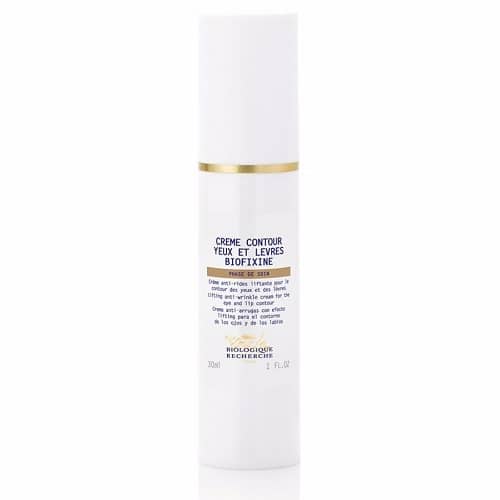 CRÈME CONTOUR YEUX ET LÈVRES BIOFIXINE
A super lifting, firming, and line filling eye & lip contour cream.
Adapted for the sensitive skin around the eye and lip contour. Ideal for devitalized skin affected by the signs of aging.Smooths and lifts the skin, fills in the wrinkles of the mouth contour for firmer and more toned skin. This unique formula restores hydration and reinforces the dehydration barrier function.
Smoothes, relaxes and reduces wrinkles around the eyes and lips
Revitalizes and restores hydration of the eye and lip contour
Lifts, tones and increases skin elasticity
Plumps up and re-shapes the lips
Protects the skin and prevents cutaneous aging thanks to its antioxidant properties
Main ingredients:
Relipidating and protecting agents: Avocado Oil, Essential Fatty Acid Complex.
Anti-wrinkle agent: Marine Elastin.
Oxygenating and regenerating agent: Specific BR Oxygenating Complex.
Soothing and draining agents: Cornflower Extract, Witch Hazel Extract.
Recommendation:
All Skin Instants®. Ideal for devitalised Skin Instants® marked by the signs of ageing